Sightseeing
During the 2-hours-long walking tour guided by one of our qualified tour guides our guests get acquainted with the most beautiful monuments of Sopron. Besides the professional introduction of sights, they will hear interesting stories about the past and the present of the town. They get to know who the famous "poncichters" of Sopron are, why traditional local foods are prepared with beans and how Sopron's most well known red wine got the name Bluefrankish.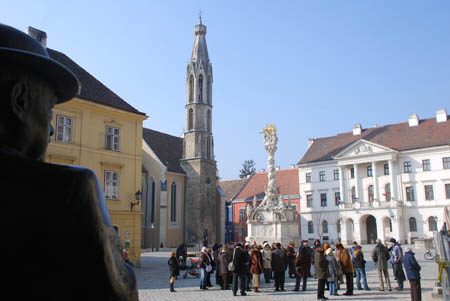 Sightseeing on the Main Square of Sopron
The walking tour is easy to follow for each age groups. It is at a comfortable place, without tiring uphills or stairs. By larger groups we use head microphone in order to ensure that everybody can follow the explanations.

Walking tour in Sopron
Sights visited during the tour:
Várkerület – Fountain of Fidelity, Statue of Virgin Mary, town walls
Archeological park behind the town hall
Main Square, one-time Forum Scarbantia
Firewatch tower
Buildings of the Main Square
Goat church, Old Benedictine monastery and Chapter house
Palaces in Church Street (Templom utca)
Lutheran church
Széchenyi Square
Synagogues in New Street (Új utca)
Building of St. George Street and St. George church (Szent György utca)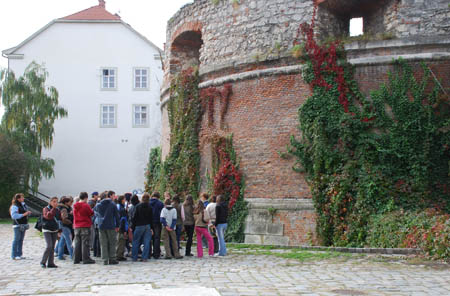 Tour guiding at the Rondella (Italian style bastion, 17th c.)
During opening times churches and Chapter house are entered (with the exception of the periods of services).
The walking tour can be complemented with the two following program modules:
Museum tour in downtown
In this tour you can visit the two most popular museums of Sopron: Fire tower, Storno-house.
Fire tower
Symbol of Sopron was renewed and opened for the visitors. The fire tower stands on roman foundations and from its circular balcony opens up a wonderful panorama of the downtown and Lőverek.
The visit to the tower and the visitor center takes about 1 hour.


Storno-house
The baroque cornerhouse in the main square standing near the fire tower is the Storno-house. It is one of the most beautiful palaces of Sopron.
The family has produced a rich and valuable private collection.
The visit to the Storno-house takes about 1 hour.


Tour by sightseeing train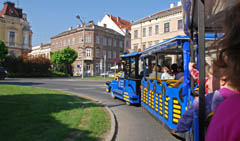 After the exploration of the downtown of Sopron, there are still a great number of sights expecting you here. During the ride on the fun train / electric bus you will get to know more outlying places, not involved in the walking tour.
During the 1-hour-long programme our passengers get information through loudspeakers about the following places of interest:
Wieden (Viennese District)
Várkerület (ring road surrounding the old town)
Széchenyi Square
Deák Square
Lőverek (the hilly area of Sopron)
We provide this programme in English, German and Hungarian with audio guidance.
Live guidance by the groups own tour guide in other languages is possible via microphone.
Prices
Walking tour with tour guide

English
German
Hungarian
70 €

/group

70 €

/group

14 000 Ft

/group
Museum tour in downtown

English
German
Hungarian

Fire tower

Ticket for adults

1200 Ft

/person

1200 Ft

/person

1200 Ft

/person

Fire tower

Ticket

reduced

600 Ft

/person

600 Ft

/person

600 Ft

/person

Storno-house

Ticket for adults

1000 Ft

/person

1000 Ft

/person

1000 Ft

/person

Storno-house

Ticket

reduced

500 Ft

/person

500 Ft

/person

500 Ft

/person
Tour by sightseeing train

English
German
Hungarian

Sightseeing train

Ticket for adults

4,50 €

/person

4,50 €

/person

1500 Ft

/person

Sightseeing train

Ticket for children

4,20 €

/person

4,20 €

/person

1400 Ft

/person
Order form